St Francis of Assisi Primary big winners at Kidzflick Awards
08 May 2015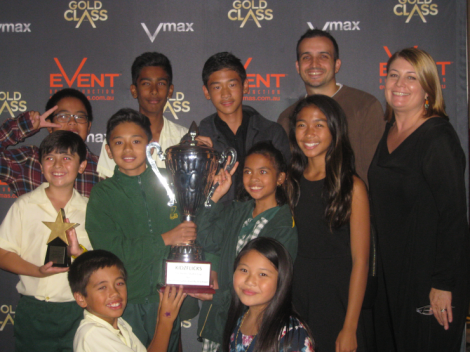 Our movie team winning their trophies
On Monday 30 March the St Francis of Assisi Primary 2014 movie team attended the Kidzflicks 2015 Movie awards night at Event Cinemas in Bondi. We were nominated for six out of the fourteen awards.
KidzFlicks, the Sydney International Festival of Films by Children, is a week long celebration of films made by children 12 years of age and younger. KidzFlicks offers young Australian filmmakers the opportunity to screen their work for a wider audience. KidzFlicks also brings films by children from over 30 other countries onto Australian screens, enabling Australian children to see their own filmmkaing in a truly international context.
We are very delighted to announce that we won awards for 'Best Directing' and 'Best Film' with the production Hare Pylls v Wild, an entertaining and amusing 'wildlife' documentary with tips for surviving school.
It was great to have all the students and ex-students attend the ceremony. Thank you to their families for their support as well.
Congratulations to all the students involved on this remarkable achievement.
Our movie team:
Iris Sinsay, Joshua Emery, Alexander Blazeski-Lindo, Abby Wasylinka, Miguel Tuazon, Vinaal Lal, Clara Naseim, Jadine Roman, Marc Caramoan, Andre Atienza, Camille Bautista.
Facebook
22 Sep 2023

This term Year 2 have been learning about how prayer can bring us closer to God 🙏🏼 At the end of the unit, all students worked on creating a class liturgy around the theme of thankfulness for our school community. The children worked in small groups to write prayers, understand and share scripture and sing a song. It was a lovely experience for the children and they did a wonderful job working as a team ✝️